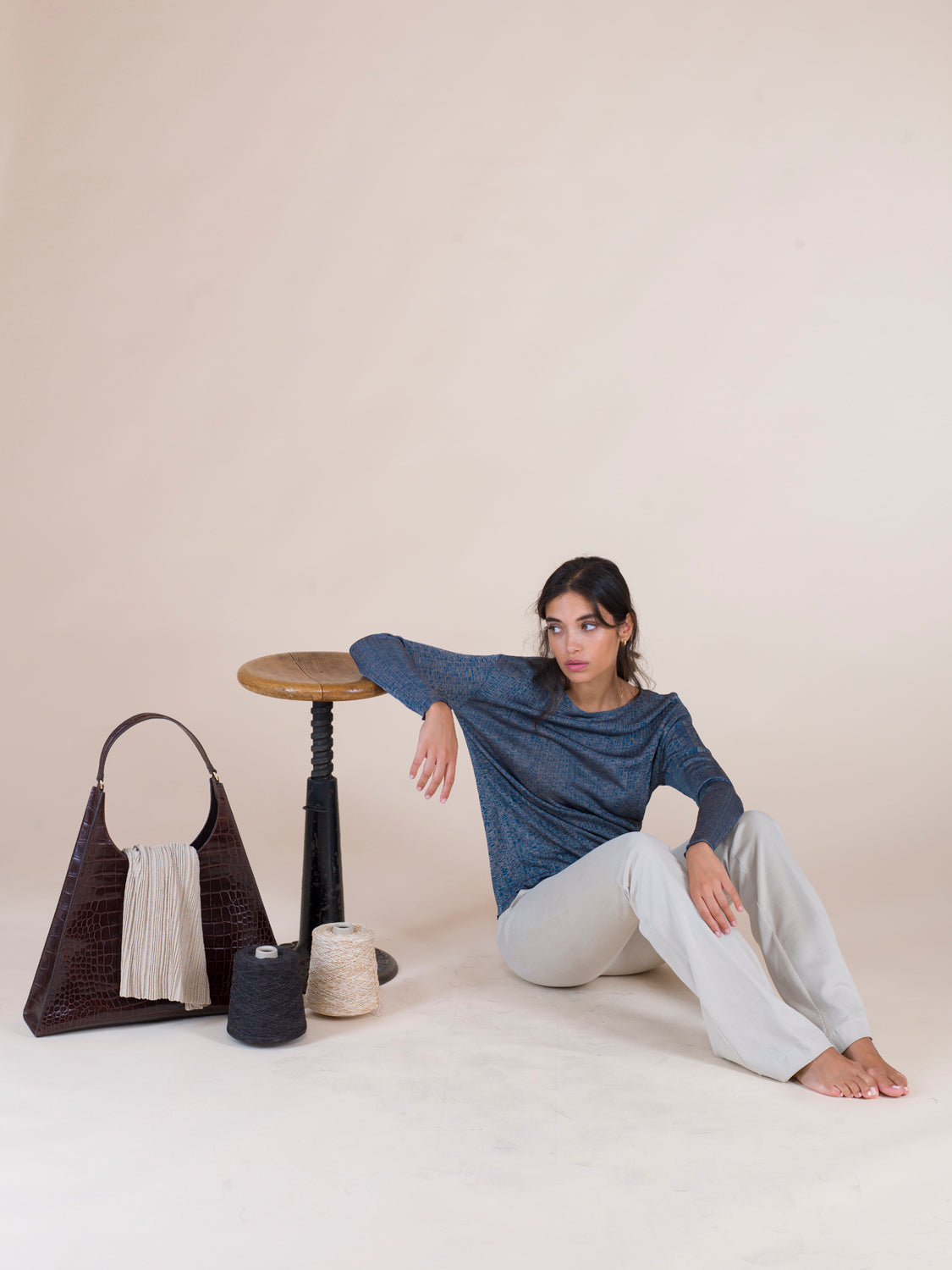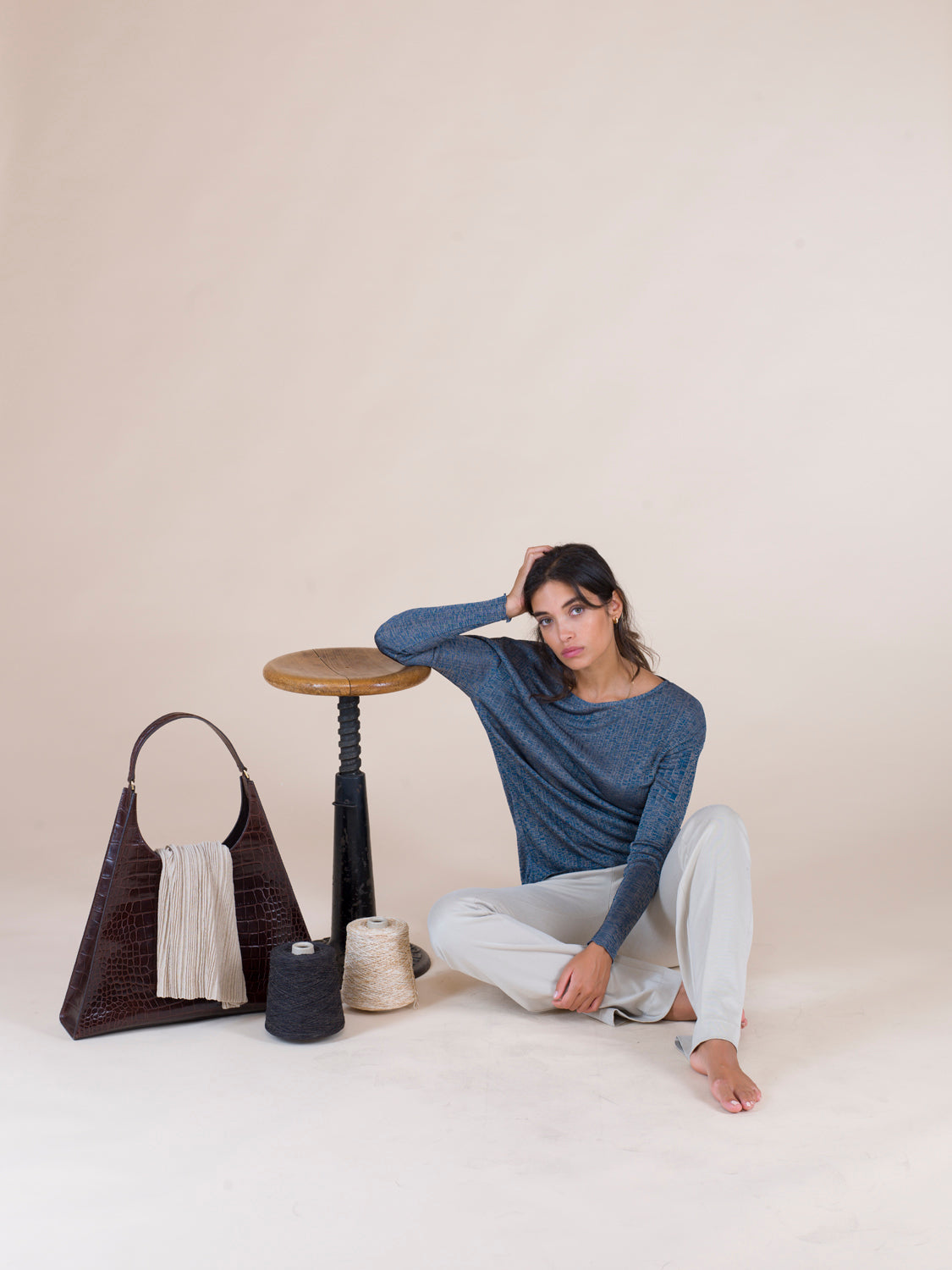 Long sleeves shirt in pure viscose YF035
$107.91
Regular price
$135.43
off
EU, UK and Non-EU: Shipping in 2-3 working days
Description
Making
Sustainability
Long sleeves shirt in pure viscose knitted with a bicolor random effect texture, featuring a round neckline
Product of local origin fully fabricated in Turin, Italy.
All our cotton is Certified GOTs
Making
Our products are manufactured using renewable, high-quality raw materials from a short supply chain, by means of Italian and European suppliers.
Designed and manufactured entirely in Piedmont, Italy, our products are from local origin.
Each phase of the production process of our products is 100% traceable.
We work with respect for the local community, workers and the environment.
Shipping
Our products are shipped directly from the manufacturer's workshop to reduce the environmental costs of shipping.
To get to you, the products are delivered using plastic-free and reusable packaging.
Use
We use raw materials that ensure that there is no release of microplastics during their washing cycles.
End of (very long life)
We use 100% biodegradable natural fibers to protect the health of the wearer.
All of our products are fully recyclable, made respecting the environment and human health protection.
To know more about Our Sustainability click here.
Long sleeves shirt in pure viscose YF035
$107.91
Regular price
$135.43
Shipping
COUNTRY
Minimum order for delivery
Delivery cost (transport & custom duties)
Delivery time
USA, Canada*
$ 400
$ 20
2-5 working days
Australia, Asia, MENA, Africa, South
America, Central America, Mexico*
400 €
20 €
3-7 working days
UK*
150 £
10 £
2-3 working days
EU*
150 €
10 €
2-3 working days
Non-EU Europe*
300 €
20 €
2-5 working days
Please note that we do not deliver to the following countries: Belgium, France, Luxembourg, San Marino, Chile, Japan, Russia, Taiwan, China, Hong Kong, North Korea, South Korea, Antarctica, Greenland, Monaco, Vatican, Andorra.
Refund
We care about the satisfaction of our customers. If you have had any problems with the order or/and your are not satisfied write an e-mail to info@natyoural.it
specifying the email address recorded in the Order Confirmation, the order number and the shipping address
indicated when placing the order.
Follow the instructions provided in the email you will receive from info@natyoural.it in order to arrange the withdrawal.
The Right of withdrawal is regulated by Terms of Service.
FAQ
Which payment methods are accepted in the Online Shop?
You can pay through PAYPAL by means of any credit cards
How secure is shopping in the Online? Is my data protected? Shop?
What exactly happens after ordering?
Do I receive an invoice for my order?
Yes of course: a paper copy will be included in the parcel and we can send you a copy by e-mail